1. General
2. Rules
3. Technical
4. Statistics

General questions
What is Jok-R-ummy?
Jok-R-ummy ® is a board game designed in Quebec by Jennick Games inc and is a variation of rummy. As many will tell you, Jok-R-ummy is the perfect pastime to liven up reunions with family and friends. There is no need to be an expert at games to appreciate Jok-R-ummy! Children and adults can gather around to play. To learn more about Jok-R-ummy, or to get your copy of the board game, visit jok-r-ummy.com.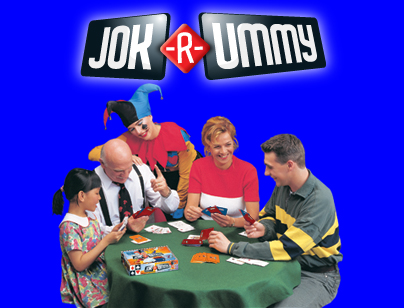 What is the objective?
To complete 7 program cards. In Jok-R-ummy, there is no complicated counting of points. Each program card contains one or more programs that could be considered as challenges. They can be straights, three-of-a-kind, four-of-a-kind, etc. The first player to achieve 7 program cards wins the game. You can learn the rules by playing our online tutorial: from the main website, click on the "Learn the game" card.
Questions about rules
How can I finish my program card?
First, click on your program card in the lower left corner of the screen. A new window will open and inside it, you will see which programs must be done. Drag you cards from your hand to that window and onto the appropriate spaces for the cards.
A red "X" appeared after I placed the last card of my program. Why?
Here are possible reasons: does your program have imposed values or an imposed kind? If your program is a straight, you must place the cards in ascending order. Also, don't forget that you cannot complete a program by using only wild cards.
I completed my program card... now I don't know what to do.
You have 3 options. 1) Make new Three-of-a-kinds with the remaining cards, or 2) add one card to a group of the same kind that is already on the table, or 3) add one card before or after a straight that is already on the table. Repeat until you have no more cards left in your hand :-)
How does the "make 3-of-a-kind" button work?
The button becomes available once you have completed your programs and have put in order 3 cards of the same value in your hand. By clicking the button, 3-of-a-kinds without a wild card will be layed down first, then the ones with wild cards. Be careful to not insert a wild card in the middle of a 3-of-a-kind, for instance 7-7-2-7, as this will produce 7-7-2 and not 7-7-7.
Technical questions
What are the requirements to play Jok-R-ummy online?
You must have PC or Mac and a browser that supports Flash player.
When will you port the game to Android? IPad? mobile? when will you integrate the game into Facebook?
When time and resources allow us.
I encountered a problem with the game.
Write to jokrummy@outlook.com and provide us with information that will help address the issue:
a print screen
what happened before you saw the bug, who did what
as well as any information that you think is relevant to the resolution of the problem
Question about statistics
Under what conditions do stats evolve during a game?
Points, rounds played, program cards completed and emptied hands will change at the end of the game according to what you accomplished during the game, even if you played only temporarily or as a substitute player. Other stats, like wins and losses, require that you be one of the original players in the game (not a substitute player) to evolve. The same goes for "players met and defeated" stats.
How is the player's rating established?
Many things are taken into account, like wins and losses and the number of players involved in your games.
How is the score calculated?
You get points when you finish your program cards, empty you hand or win a game. You also get points when your opponents accomplish the same actions.
How can I qualify for the leaderboards?
You enter the boards as soon as your stats allow you to take a spot among the 11 best players of the displayed category. Only the players who have logged in during the last week will be eligible.